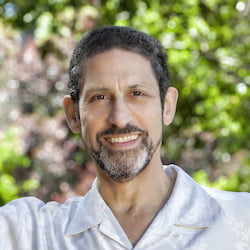 Lion Goodman, PCC, is the founder and CEO of Clear Beliefs Institute. He has 40 years' experience as an executive coach, counselor and healer. He is known as the Subconscious Pattern Detective.
He is the creator of The Clear Beliefs Method, a proprietary process for shifting beliefs at the core of the psyche, healing childhood wounds, and resolving trauma. Hundreds of coaches, therapists, healers, and change agents around the world have graduated from his Clear Beliefs Coach Training.
Lion is the author of five books, including Clear Your Clients' Limiting Beliefs; Creating on Purpose (with Anodea Judith); Menlightenment; and The Narcissism Primer. He has taught workshops and trainings across the U.S., Canada, Europe, Central America, and China.
His articles have been widely published in books, magazines and blog sites, including GoodMenProject and YourTango. He has been featured on dozens of summits, radio programs, podcasts, and television shows.
In his previous life, Lion had a 25-year career as an executive search consultant and executive coach, where he worked with hundreds of companies and C-suite executives. More than a thousand coaching clients have reported that they achieved their goals faster, easier, and with less stress than ever before.
Thanks to the photographers who've helped make this site beautiful:
Freestocks, Mohamed Nohassi, Stephen Leonardi, Kaibing Fan, Silas Peters, Frank McKenna, Nicolas Cool, Roman, Shutterstock, Anton5146, Michael Davies, Jeremy Leung, AlphaSpirit, Lupithavn14, AgsAndrew, Mills Bauer, and JustGeek
Thanks to the photographers who've helped make this site beautiful: